Social Development: Overheads
Raising a Child (Baking a Baby?)
A child has . . .
Biological
Cognitive
Social
. . . needs

These needs are met through interaction with
Family
Neighborhood
Community
A Transactional Model of Development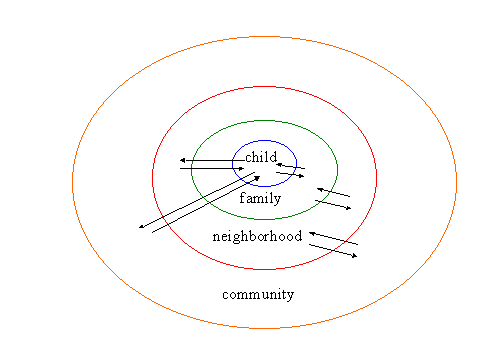 Hallmarks of Development



Age

Biological Development

Cognitive
Development

Social
Development

System

0-2 yrs

live and interact with the world
coordination of sensory and motor systems
complete dependence on caregiver
family

2-5 yrs

gross motor coordination
representational skills
beginning
self identity
family

5-7 yrs

fine motor coordination
causal thinking
self in relation to others
family
neighborhood

7-12 yrs

growth
problem solving
peer acceptance
family
neighborhood
community

12-16 yrs

puberty
abstract representation
peer acceptance
family
neighborhood
community

16-18 yrs

adult refinement
relativistic
logical
abstract relationships
self-acceptance
family
neighborhood
community
What is the Role of Parents?
Current Zeitgeist Parents shape children
Sandra Scarr "Good enough parent"
Judith Rich Harris "Good parents can sometimes have bad kids."

Remember the Enduring Issues!
Conceptualizing social (& every other) development
Stages or continuous?
Individual differences?
Coherence or independence?
Sources of development?